A mold-breaking marketer needs a unique, captivating brand identity.
StorySell approaches marketing with a blend of science and storytelling, helping CEO's craft narratives that inspire their employees and connect with their audience.
LOGO DESIGN  |  IDENTITY SYSTEM  |  BRAND GUIDELINES  |  WEBSITE DESIGN
"Having worked with hundreds of designers, I'd have to say Madison is one of the best. Hands down. She helped my new business create a striking visual identity, which manifested in one of the best website designs I've ever seen. No small praise considering I work in marketing! If you're looking for top-shelf design talent combined with fast turnarounds and a high-degree of professionalism, work with Madison. You won't regret it."
-Evan Ross, Owner
StorySell owner, Evan Ross, approached Creative Chameleon Studio with the task of creating a striking, unique brand identity. Starting with a strategy session, we provided three visual directions that each could speak to his ideal brand position. The visuals and emotions of the first moodboard strongly connected with Evan and his big picture vision for the StorySell brand. With the moodboard as the set target, three logo options were presented and one was selected to move forward with.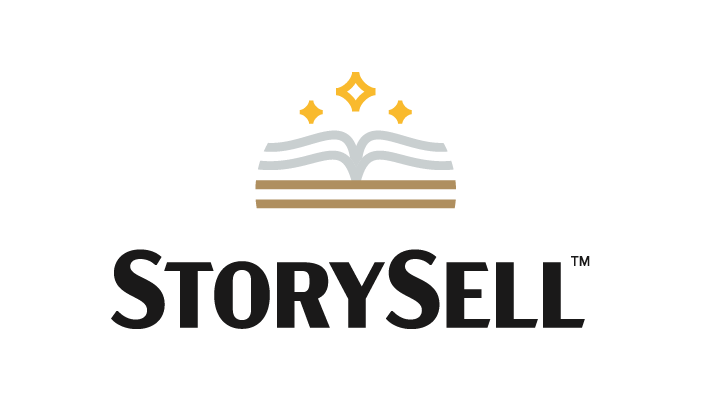 The finalized logo was a bold, angled typeface coupled with a simple, striking icon. The icon was built of three elements.
The stars at the top

of the icon represent the lofty goals StorySell helps their clients reach and the big picture perspective they give them.

The open book in the middle

of the icon represents the narratives StorySell helps their clients write for their company.

The two lines at the bottom

of icon are the foundation that provided for StorySell's clients as they help them align their brand and set them up for success.
Having brand guidelines is key to the consistent usage of an identity. We provided StorySell with comprehensive guidelines that covered logo usage, color palette, typography usage, and supporting elements.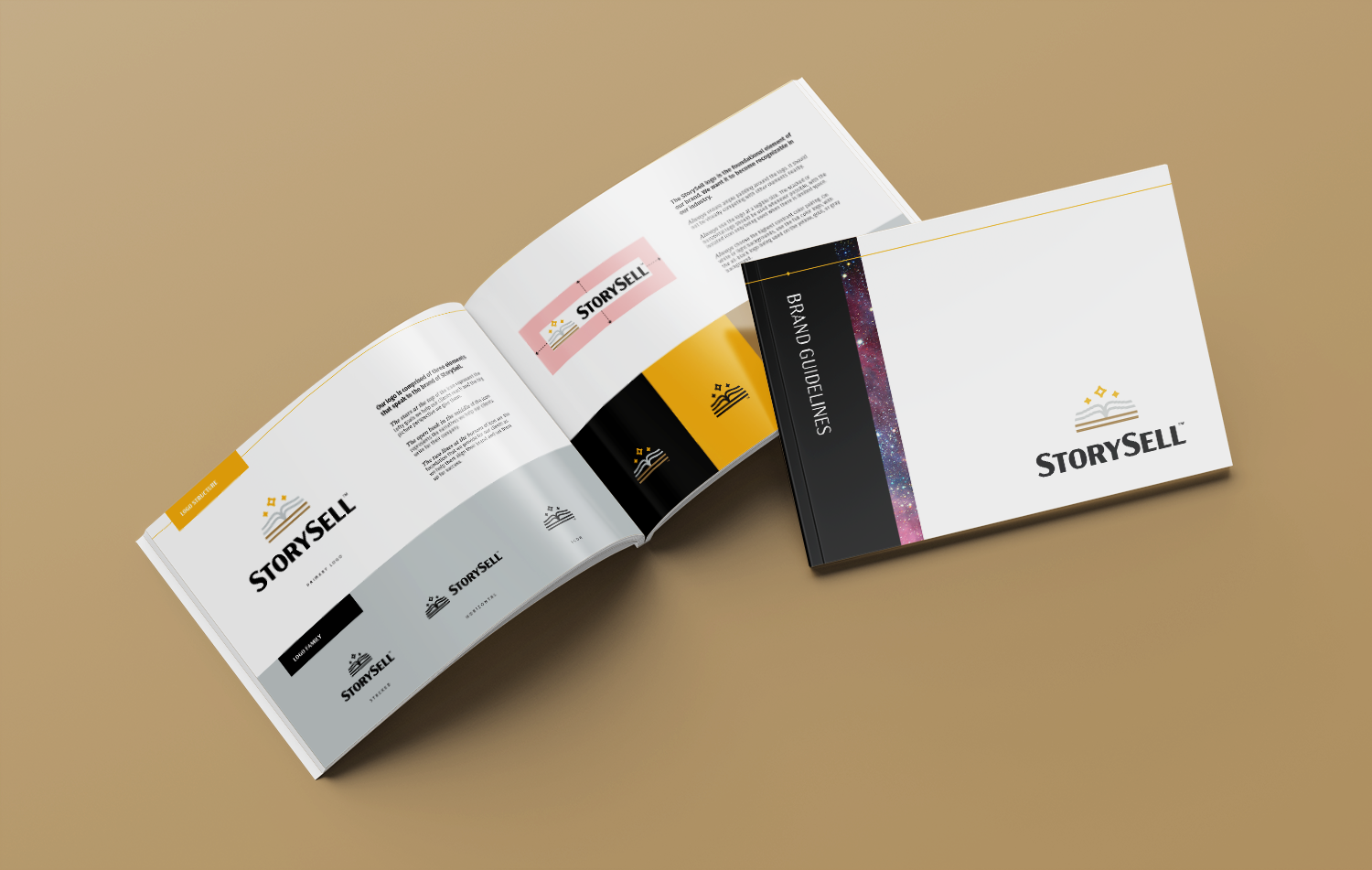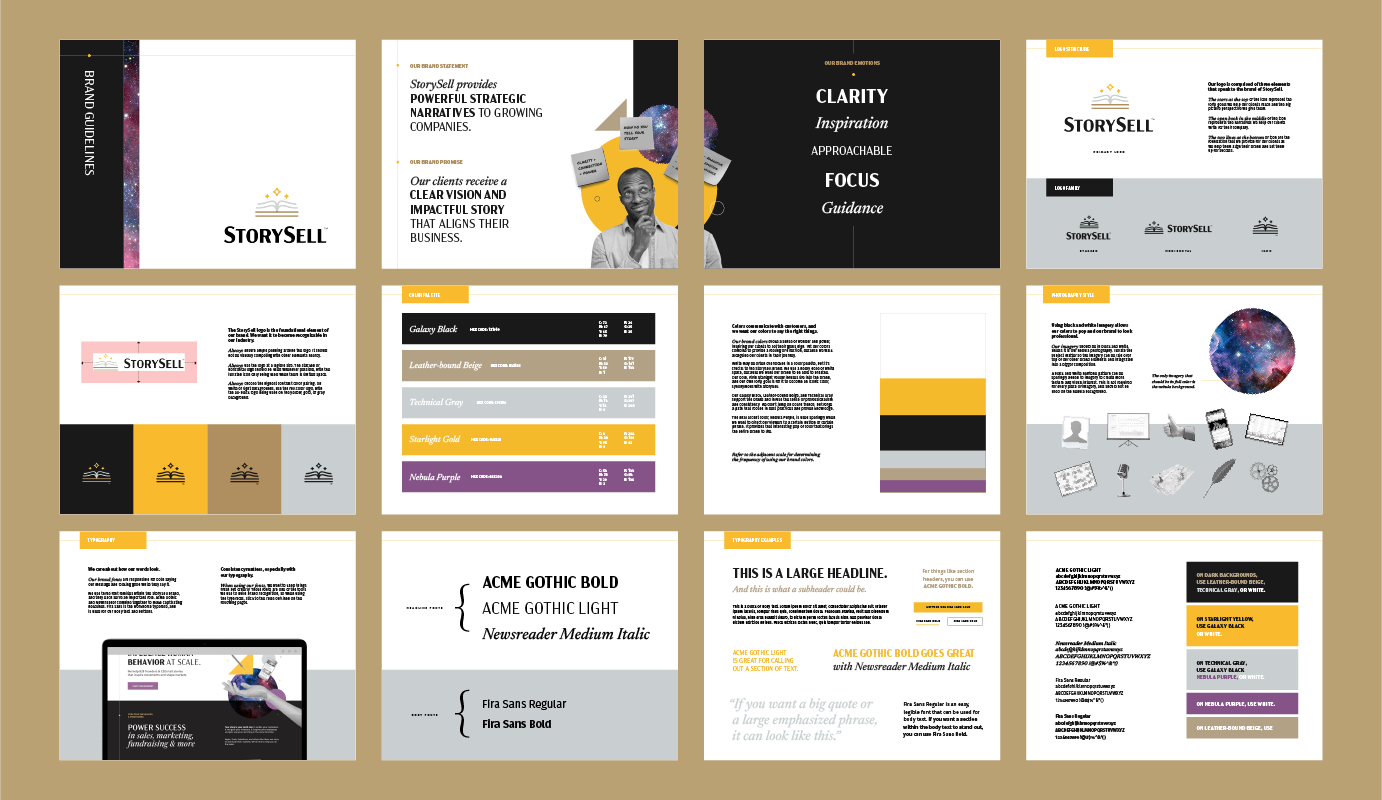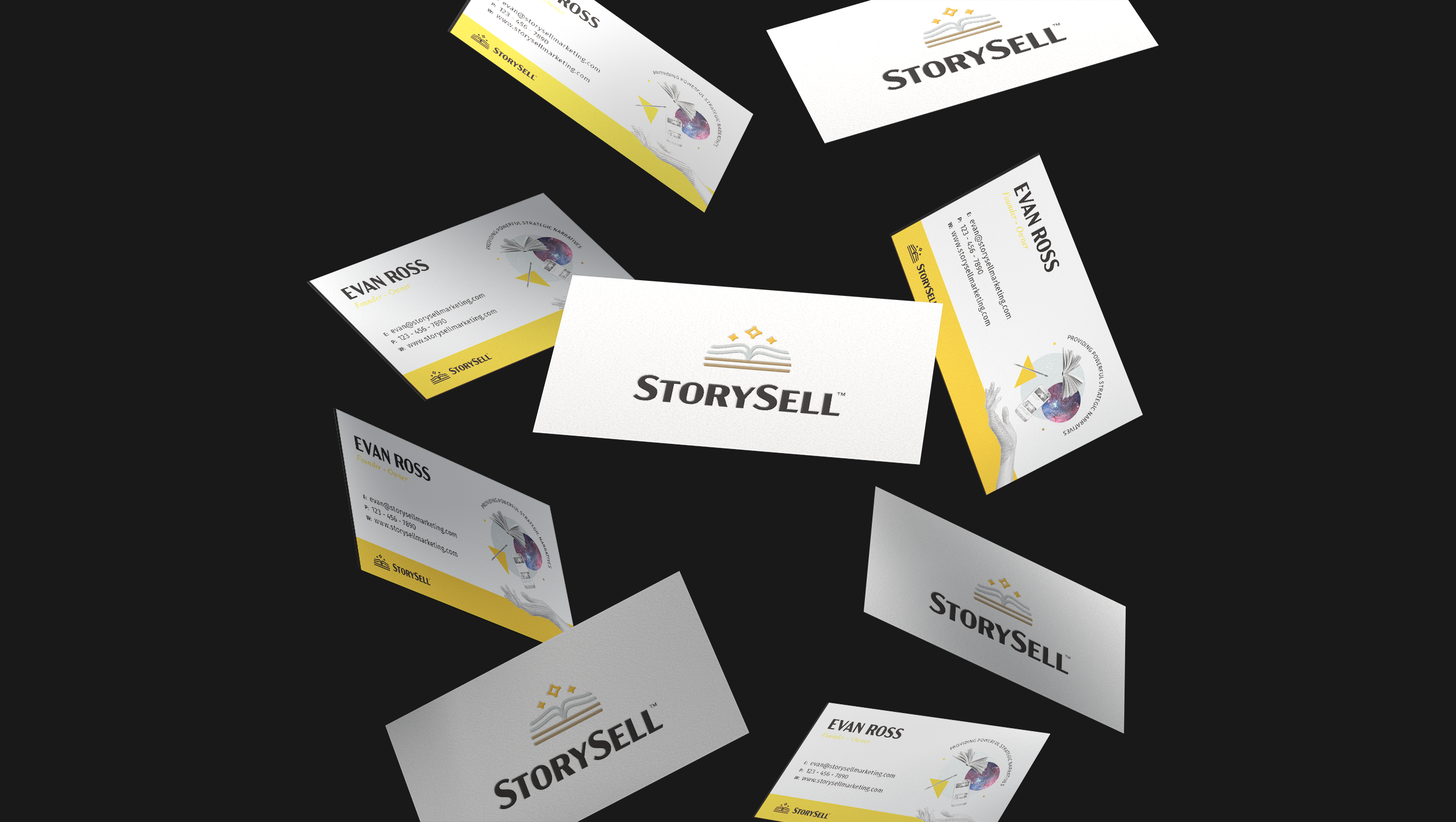 Every business needs a website, so the next step in building StorySell's brand was applying the new logo and identity to a site design. It was important that the content and voice really shine, with the visual elements drawing in the user. The result was a clean, compelling site design that allows StorySell to grow brand recognition and convert visitors into loyal clients.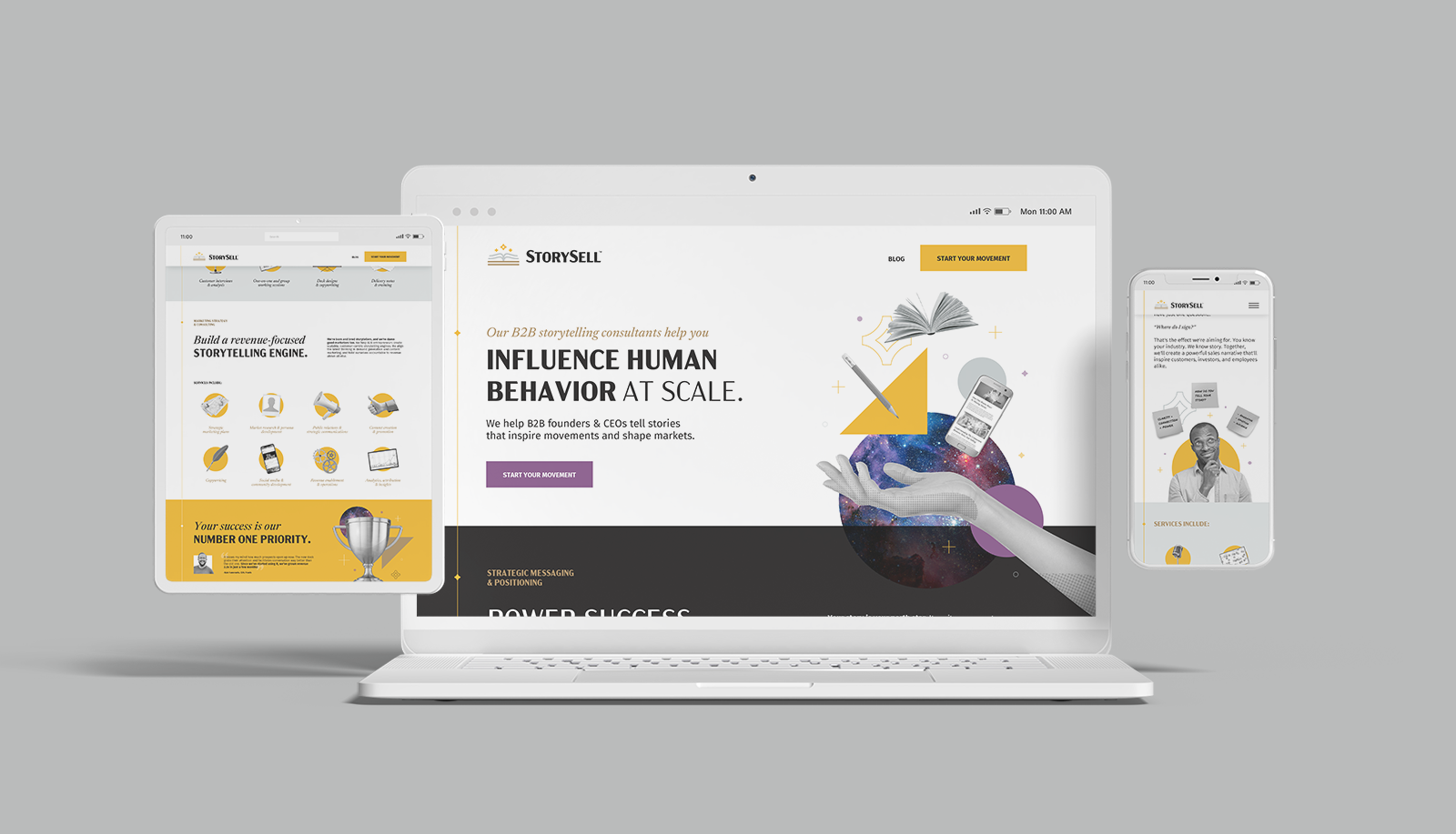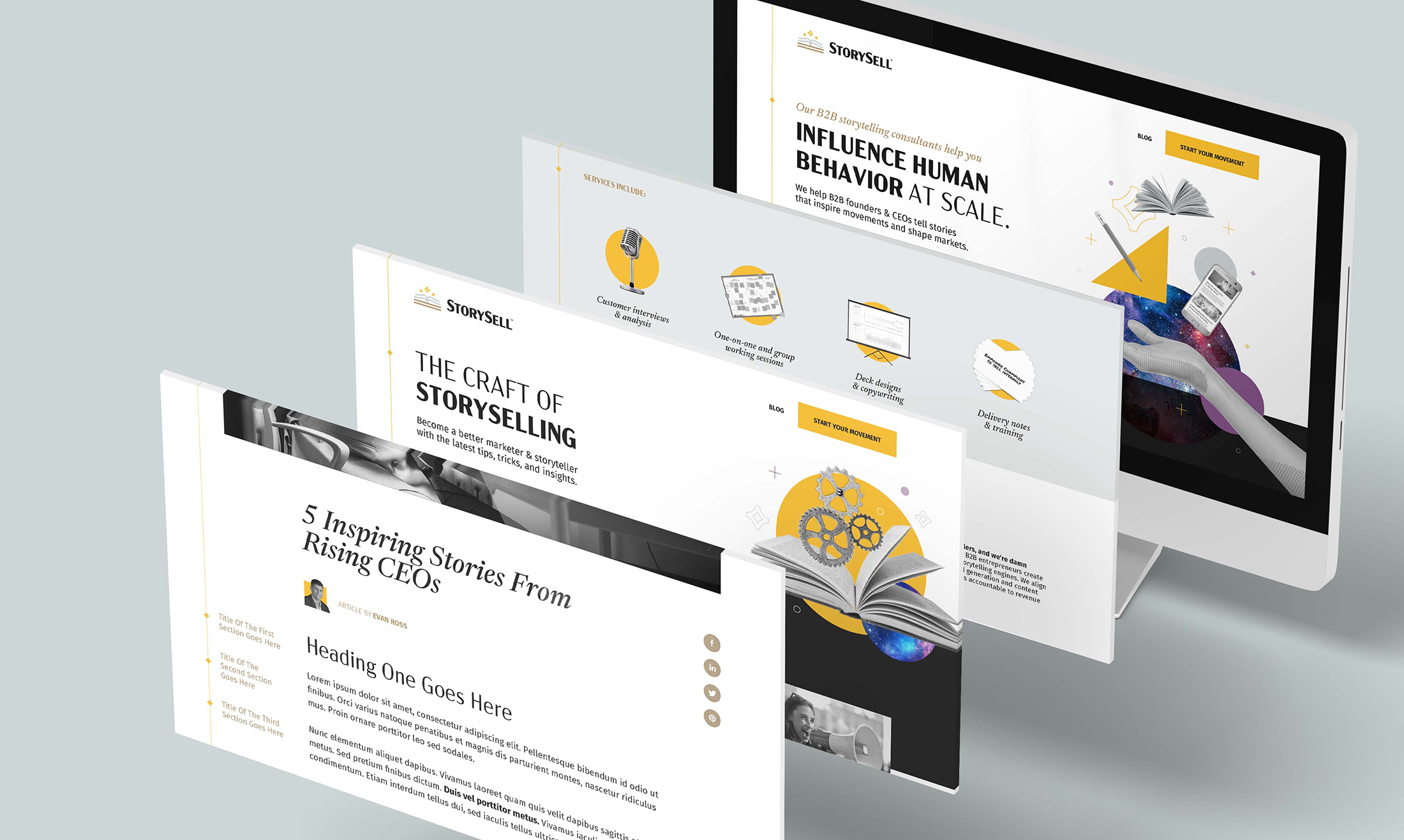 It's time for you to grow.
We don't do boring, we're all about making page-turning brands.