You'll hear this term getting thrown around alongside "logo" and "branding." But what is it, and is it something your small business should worry about? In this article, we'll cover what a visual identity entails, and the three ways it can help a small business grow.
Defining "visual identity."
The meaning of a visual identity is pretty straightforward. "Identify" means a way to differentiate one thing from another. "Visual" means the elements that we can see. So a visual identity is graphic elements that identify one company from another.
Does this mean every company has a visual identity? No, because the main thing that makes visual identities effective is consistency. If there is nothing consistent in the way you identify your company, people will not be able to associate graphic elements with your company.
A visual identity starts with a logo, because it's the main, consistently used graphic element in a company. But an identity is more than just a logo, it will encompass ALL the graphic elements of a company. This means colors, fonts, pictures, patterns, illustrations, advertisements, websites, social media posts, etc. When you have a visual identity, everything your company puts out visually should be tied together, and not just by slapping your logo on it.
A great example of a visual identity in action is Subway.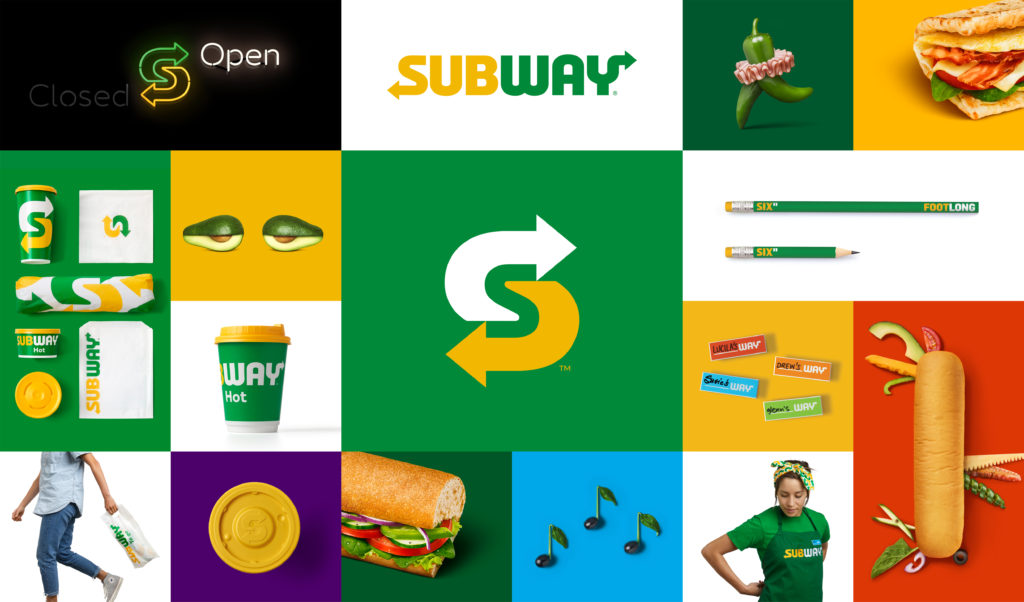 You can see that Subway, in addition to a primary logo, has a distinct color palette, photography style, and supporting fonts. If you see Subway advertisements, they will have the same look and feel.
There are countless other namebrands that have established, recognizable identity systems. Coca-Cola, Nike, Starbucks, Apple, etc. It's clearly something that is important to these big companies, but how does a visual identity impact the public? And is it something that small businesses should think about?
The main job of a visual identity.
There is one main purpose a visual identity serves. A visual identity is a continuation of the identifying efforts of a logo. Or more simply, an identity is an even bigger way to let the public know who you are.
While a logo is a part of a visual identity, the two things serve different purposes. A logo's main job is to identify a company. When people see your logo, they simply need to know that your logo represents your company. It doesn't have to represent WHAT you do or sell, but a logo just says "whatever this is on is part of this company." If you have a T-shirt with your logo, it goes from a generic T-shirt to "Your Company's T-shirt." A semi-truck hauling products is an anonymous semi-truck to everyone passing by it on the highway. But slap the Amazon logo on the side of it, and now people know that it's hauling Amazon products to or from an Amazon warehouse. This is what a logo does, it identifies.
A visual identity takes that a step further and starts to identify your BRAND. A brand is the feelings or promises associated with a company. You can't always convey that in full within a logo, nor do you have to because that's not it's main job. But with the visual identity, you can start to support your brand through visual elements.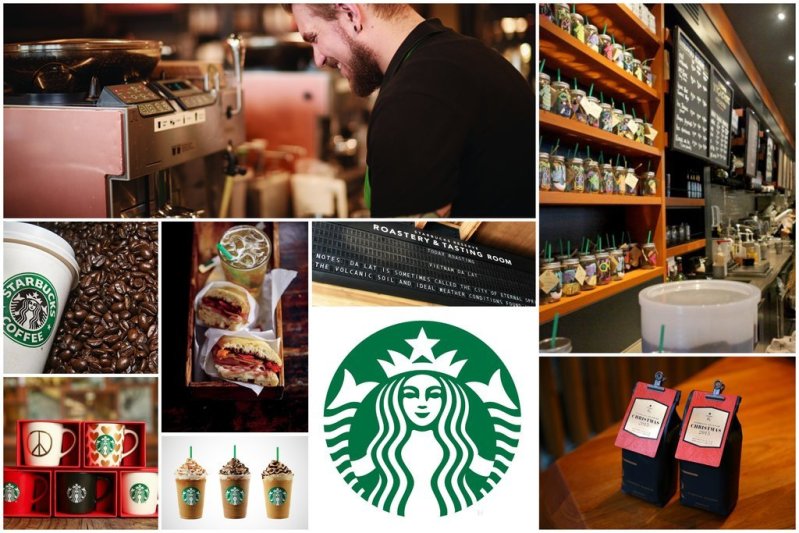 The big guys use identities.
Starbucks is a great example of an identity supporting a brand. It's logo is nice and recognizable, but by no means screams "coffee" or anything about the company's brand. But if you walk into a Starbucks, and look around at all their products, you'll start to get an idea of what their brand is, without them telling you anything directly. Starbucks is welcoming, it's hip, it's chill. It's supposed to be a place where you can get coffee AND have a good time. Their website directly states "we are so much more than what we brew." Since they want to sell more than just coffee, their identity has to establish them as a place to meet friends, make connections, or get work done in a chill atmosphere. The Starbucks logo can't convey that, but every other visual aspect of their company can.
But what about the small business, the startups, and the mom-and-pop stores? Is a visual identity important for them, too? The answer is a resounding yes! Your investment shouldn't stop at a logo, because you can get so many more tools to use than that. There are three main reasons a small business should invest in developing a visual identity.
1. A visual identity strengthens public recognition.
Having more than just a logo will help you establish your company in the eyes of your customers and the public. A logo is a great start, but determining your company's colors, fonts, styles, etc., will start to solidify who you are.
An example jumps to mind when touching on this public recognition. Where I live, there's a local plumbing service, and while I've never hired them, I know who they are. All of their services vans are outfitted in their brand colors, which are a bright yellow with red and black lettering. It's hard to miss! The yellow catches my attention, and then I see their logo. After seeing their vans around town, they're now the local plumber that jumps to mind.
Now, this might be more of a lesson in eye-catching advertisement, but the consistency of their company colors is something to note. If each of their service vans were different colors, or looked like every other plumber's vans, then this company wouldn't stand out in my mind. Having a determined visual identity increases consistency, and that's vital to building a brand name. That also leads us into the second reason a small business should have a visual identity.
2. A visual identity helps differentiate your company.
A logo's primary job is to identify your company from other companies. And while a visual identity's main job is to set the tone of your brand, it also strengthens the logo in it's purpose. This is why you can tell a Dunkin' from a Starbucks while driving down the road. One is green and white, the other is orange and pink. You might be thinking, "it's not as simple as that," but in the few seconds you take to scan the horizon on a long road trip, you're looking for the red and yellow arches, or the big blue and yellow sign to make a Walmart pit stop. Color is one of the primary ways we differentiate between things, and it's the first thing your identity can use to separate yourself from the pack.
Everything else in your identity, from your fonts to your patterns, will also push the effort of making you stand out. If you just have a logo, you could be missing out on the opportunity to distinguish yourself from your competition.
3. A visual identity makes a company look more professional.
This is an excellent reason to develop a visual identity. Why does having specific colors and fonts make a company look more professional? The quick answer is because that's what the big businesses do, so by mimicking them, your small business appears more mature and legitimate. A deeper answer is that is displays purposeful decision-making. Essentially, you LOOK like you have your act together. Of course, if you don't have an identity, it doesn't mean you aren't professional or legitimate! But to the public, we trust companies that look trustworthy. Having consistency in your company's visual elements shows that you've put thought into how you look, and people like that. It's the idea of "dress for the job you want." People respond strongly to how things look. This reason also relates to why your company should have well-designed visuals, from your menu to your website. If things look like it was designed by a high school student or someone just figuring out how to use Clipart, people will tend to trust it less. Having professional designs make you look professional, and that translates into having an established visual identity.
Conclusion
Having a logo and visual identity is one way design can take your small business and turn it into a big business. If you want to learn more about developing a visual identity for your company, reach out using this contact form. For more articles relating to branding, check out these!